Cornoavirus crisis necessitates extreme copyright flexibility, educators insist
The Internet Archive on Tuesday announced the creation of the National Emergency Library to make it easier to borrow from its collection of ebooks during the COVID-19 outbreak.
In theory, digital books are infinitely reproducible, but US copyright law prevents unrestricted duplication. To comply with the law, libraries that lend ebooks allow people to check out as many copies as they have licensed, and then place would-be readers on a waitlist that provides access when checked-out titles get checked-in.
The National Emergency Library does away with its waitlist, to accommodate students, researchers, and others who cannot obtain assigned texts or necessary library materials while stuck at home. So the supply of digitals texts in this collection will be unlimited, temporarily.
"The library system, because of our national emergency, is coming to aid those that are forced to learn at home, " said Brewster Kahle, digital librarian of the Internet Archive, in a statement. "This was our dream for the original Internet coming to life: the Library at everyone's fingertips."
The National Emergency Library will let people borrow books without any waiting list, though only from the Internet Archive's Open Library system, which includes about 1.4m digital books made available for lending. The Internet Archive maintains a separate set of 2.5m digitized public domain works not subject to any waitlist.
The available collection is not comprehensive but includes titles from the collections of Phillips Academy Andover, Marygrove College, and Trent University, with more than million other books donated by other libraries.
According to Chris Freeland, director of Open Libraries, these titles come mainly from the 20th century and were scanned because there's no commercial ebook version. The waitlist suspension will continue through June 30, 2020 or the end of the US national emergency, whichever comes later.
Commercial digital content providers have undertaken similar initiatives to facilitate education among those sheltering at home. Amazon's Audible, which runs an audiobook platform, has just launched Audible Stories, a collection of audio titles in six languages that children can stream for free.
And Sesame Workshop last week made over 110 free Sesame Street ebooks available to families as part of its Caring for Each Other initiative.
The Authors Guild has claimed the Open Library system is operating "in flagrant violation of copyright law" by distributing scans of printed works made without authorization.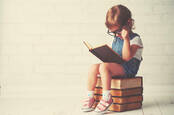 Audible hasn't even launched its AI-powered book subtitles and publishers have already fired off a sueball
Earlier this month, attorney Kyle Courtney, copyright advisor for Harvard University, argued in a blog post that infringement claims made over digital book lending for educational purposes during the COVID-19 crisis would be more likely to be excused as fair use.
Educators and librarians from across the US have taken a similar stance. They have issued a statement supporting the National Emergency Library on fair use grounds.
"It is evident that making materials available and accessible to students in this time of crisis will almost always be a fair use," the signatories claim.
"As long as we are being thoughtful in our analysis and limiting our activities to the specific needs of our patrons during this time of crisis, copyright law supports our uses. The fair use doctrine accommodates the flexibility required by our shared public health crisis, enabling society to function and progress while protecting human life and safety." ®
Sponsored:
Practical tips for Office 365 tenant-to-tenant migration