At a cost of £14.5bn and counting
Analytics house GlobalData has calculated that British retailers have shut 382 million sq ft of floor space since the UK's coronavirus lockdown on 23 March, causing a £14.5bn drop in sales – though it claims that equates to roughly £200 of delayed or cancelled spending per each local.
Maureen Hinton, global retail director at GlobalData, said: "Measures to stop the spread of COVID-19 in the community is hitting non-food retailers the hardest, particularly clothing specialists, which account for 36 per cent of these lost sales.
"While some of these sales will have transferred online the majority will not be recovered, speeding up the demise of the weakest operators and the permanent closure of even more retail space."
Many traditional bricks and mortar retailers were already feeling the pinch of more shoppers switching online before the spread of the virus and unfortunately this outbreak may be the straw the broke the camel's back.
Arcadia, which owns Top Shop, is reported to be considering permanently shutting 100 stores. It was already struggling and last year cut a deal with landlords to close 23 stores. Another 12 have been closed this year. In other signs of stress in the market, Debenhams, Oasis and Warehouse have all fallen into administration.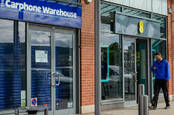 Dixons Carphone top brass take 20% pay cut as swathes of Brit workforce furloughed
This will inevitably have an impact on IT spend in retail. Last year, Gartner forecast global retail investment in technology would grow by 3.6 per cent through 2020 as retailers increase tech investment to better respond to changing customer habits. AI and analytics were topping the investment priorities, the research group said.
Still, it is hard to see how retailers can invest when their own cash is so dramatically depleted.
The overall economic picture looks bleak in the UK: last week the Office for Budget Responsibility, the independent unit advising the government's fiscal and monetary policies, said the economy could shrink by 35 per cent as a result of the COVID-19 lockdown, and cause a 10 per cent unemployment rate.
Generally, IT spending in the past month has shifted to home working tech as businesses asked their employees to work remotely. Collaboration tools, notebooks, computer monitors, cloud services and enterprise software have gone through the roof. The same cannot be said for classic enterprise hardware.
Last month, Global Data predicted a drop in software sales for the year. "All IT projects that can be shelved will be shelved until at least 2021. Software vendors must prepare for a tough year where very little net new business will be won before the final quarter," the data cruncher said.
With the virus crisis still not under control, it is very difficult to predict how the economy will emerge from this unprecedented period of change. There may be opportunities for IT as retailers try to reach customers online, but one thing is sure – the market won't return to the way it was before 2020. ®
Sponsored:
Choosing A Low-Code Vendor