IBM has given users of its IBM Cloud Virtual Servers for VPC on POWER 80 days to find a new home.
A Wednesday annnouncement from Big Blue advises that the company "has decided to consolidate its Power Systems offerings in the IBM Cloud."
Big Blue currently offers two POWER-powered cloud options. One is IBM Cloud Virtual Servers for VPC on POWER, which includes extra networking smarts to build virtual private clouds, support GPUs and can run Linux. The other is IBM Power Systems Virtual Servers, which is closer to vanilla IaaS and current runs AIX and IBM's "i" operating system.
Keen-eyed Reg readers will have noticed the omission of Linux on that list, which makes IBM Power Systems Virtual Servers less-than-brilliantly useful.
IBM has promised that IBM Power Systems Virtual Servers "will be expanding to include Linux later this year." But it's not said when that will happen and that could mean uncomfortably tight migration deadlines for current customers because existing Virtual Servers for VPC will be deleted on August 22nd 2020. Which is 80 days from the date on which IBM posted its death notice.
That notice also advises customers that IBM's soon-to-be-sole-remaining POWER cloud doesn't support GPUs, so Virtual Servers for VPC clients that want to keep using the accelerators in the Big Blue cloud can use its x86 offerings. Because porting workloads between completely different architectures is so very easy … NOT.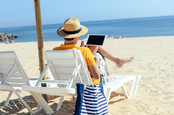 Before IBM started axing staff, it told them Q3 2020 would be super-busy with post-lockdown catch-up jobs
Scalability is another casualty of this sudden announcement: no new orders for Virtual Servers for VPC are being taken.
IBM's POWER-powered clouds have had a difficult history. They debuted a year later than promised and then did not grow beyond a single Dallas-based data centre for years.
But there's clearly some demand for the POWER architecture in the cloud, given that Google started offering it in January 2020, IBM has announced expansion plans for its remaining efforts and some third parties offer either hosted POWER or multi-tenant POWER boxen for hire.
The Register understands that IBM's cloud teams are excited by its POWER cloud as an important differentiator for users of mission-critical application – especially SAP – considering a cloudy migration. Those with on-prem POWER will get the usual spiel of opex vs. capex, the end of hardware maintenance and easer scaling. Potential x86 refugees will be offered cloudy POWER as an easier on-ramp to all the resilience and scalability the platform offers, with a promise that IBM can comfortably bring business logic and other customisations to its cloud.
Assuming there are any IBMers left to do that after it recently made extensive layoffs, seemingly deepest among staff with skills on older platforms. ®
Sponsored:
Webcast: How hackers have weaponized Covid-19