It's a beautiful day in old Blighty, hotter even than former party capital Ibiza in the Mediterranean. Are you going to go outside?
Heck no, you're a sunshine-shirking nerd who works with and reads about computers for fun. Plus there are horrible diseases.
Fortunately for you, The National Museum of Computing (TNMOC) has some good news about how to enjoy its exhibits safely, without having to leave the sweaty crevices of your desk chair.
The world's largest collection of working historic computers, kept at England's wartime code-cracking nerve centre of Bletchley Park, has thrown open its doors – virtually – so anyone anywhere can view it.
With but a click, you will be whisked away to a 3D render of the Buckinghamshire hoard, then zoomed down into the museum's entrance lobby. From there, you can navigate the long white halls of computing history in Google StreetView style.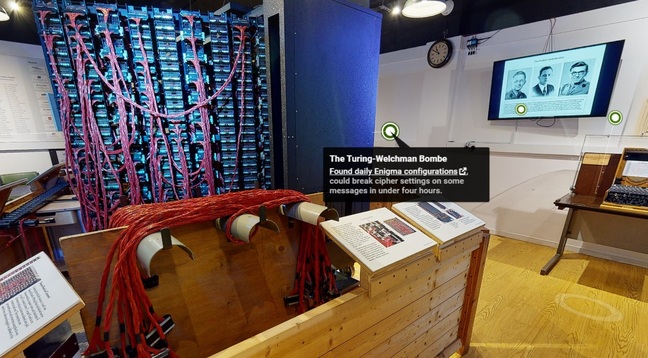 Virtual reality is da Bombe
Each exhibit has a green circle to hover over, offering a brief description with a link to more in-depth information and media. It's quite enjoyable simply to walk around as if playing Myst, and especially interesting if you've never had the pleasure of visiting before.
The tour has been made possible with funding from the Milton Keynes Community Foundation's COVID-19 Emergency Response Fund, as we know museums particularly have been struggling through the pandemic, and created in association with Venue View Virtual Tours and interpretation specialist Blended Past.
It can be accessed on desktop, tablet, mobile or even using a virtual-reality headset. Highlights include: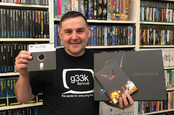 Elite name on Brit scene sponsors retro video games preservation project at the Centre for Computing History
And that's just a snippet of the free stuff. If you fancy a more curated and personal experience, a paid-for tour for 10 people is in the works. Details on how to book will be published here in due course.
TNMOC chairman Dr Andrew Herbert said: "The coronavirus pandemic and the necessary restrictions are making us think in new ways about displaying our story of computing to the public. The 3D virtual and live curated tours are helping us stay connected and also to breakthrough to reach new audiences, which is especially important during this pandemic."
Keith McMahon, managing director of Venue View virtual tours, added: "The National Museum of Computing has joined some of the most innovative museums from the Tate Modern, HMS Belfast and the Churchill War Rooms in delivering a 3D tour of its facilities. TNMOC provides people the opportunity to explore via the screen of their choice and the interactive nature of the tour means there is something for everyone."
So pull on your Oculus, hop in and have a look around. The boss won't see if you're working from home [??? – ed]. If this pales in comparison to the real thing, you don't have long to wait either. The museum aims to reopen physically on 8 September. Virtual tours will continue. ®